+Sense: Sensory Biofeedback Device for Parkinson's Disease
Helena R. Gonçalves (PhD Student)
Parkinson's disease (PD), for which there is still no cure yet, is the second most common neurodegenerative disease worldwide, affecting 20.000 Portuguese. It leads to a wide list of motor symptoms associated with gait disorders, for which no apparent causes are known and compromises patients' autonomy.
A pharmacological barrier to treat these gait-associated symptoms has driven the use of other approaches, such as the use of Biofeedback Devices, which have revealed a relevant and avant-garde intervention. These systems provide sensory cueing according to the motor conditions of the users. They allow the provided biofeedback to bypass the failure of nerve messages, specifically associated with motor symptoms. Indeed, the feedback is provided depending on a sensed and measured response in patient's neurological system. Consequently, it allows closing the loop between the patient's sensory system and the sensory cueing, as an augmentation-sensory rule. It is expected that the patients became to perform a goal-oriented gait.
These reasons led us to develop two solutions to contribute with new scientific advances in the scope of PD: a Vibrotactile Biofeedback System built into a (waist)Band; and a Visual&Auditory Biofeedback System based on an Augmented Reality APP integrated with glasses.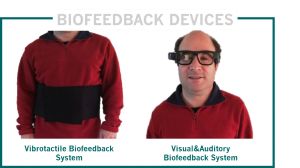 This research seeks that these systems can provide:
1) Biofeedback according to each user's gait patterns: by acquiring a set of gait patterns, it is possible to detect their events, detect motor disturbances such as freezing of gait and provide suitable and intuitive biofeedback;
2) Safety and pre-alarm strategies: the recognition of situations that may represent an associated risk of motor disturbance to patients, allows to provide sensory information so that it can offer continuity of movement without any alteration;
3) Corrective or preventive biofeedback information: the sensory measurement of posture or pre-knowledge about the patient's intention allows to offer postural correction or referral information, for example;
4) Integration with other robotic devices, such as the walkers, orthoses and prostheses.
Besides to use the quantitative gait assessment to provide real-time assistive control strategy, it has been studied the possibility to apply machine learning tools to obtain relevant information about PD motor symptoms and their evolution throughout the disease, contributing with a new strategy to help clinicians with clinical-decision support tools. Future implications include advances in early PD diagnosis strategies, and the way gait may be clinically evaluated in PD, could serving as a biomarker of illness stage. Furthermore, at present, there is no established procedure for reliably classifying PD based on spatial-temporal gait characteristics alone.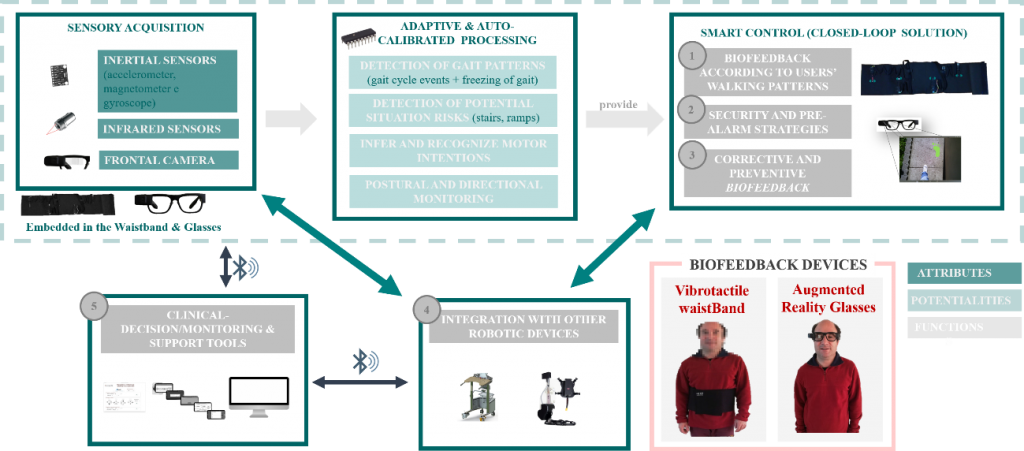 These biofeedback systems are being validated with parkinsonian patients at the Braga Hospital via the academic clinical center after acceptance by the Ethics Committee. Positive results have been obtained regarding improvements in gait performance with the use of biofeedback, with a high degree of acceptability and interest from end users.
We hope to bring a step change in the scientific understanding about issues related to biofeedback approaches, and advances research in assistive robotics by developing new technologies towards PD. Benefits comprise improvements of gait with increased quality of life and social inclusion, less dependency on the family.